17 Unique Venues for a Spectacular Sydney Event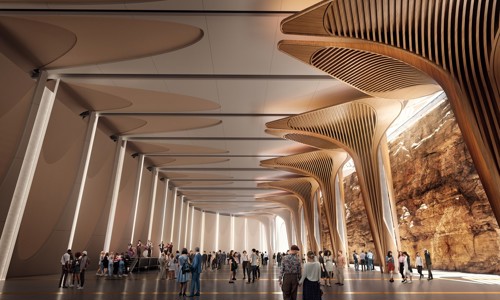 Sydney is an aspirational destination for conference and incentive programs and the city's reputation precedes your arrival. The people are friendly, the city is easy to get around, Sydney Harbour is stunning by day and by night and year-round the climate is inviting.
When you are planning your conference or incentive program, Sydney offers many unique venues located on the water, overlooking the gardens or harbour, on an island, surrounded by arts, culture and history, heritage-listed and built for size. Explore a selection of venues that provide a spectacular space for less than 100 guests to more than 4,000 - Sydney has a unique event space for your unforgettable event.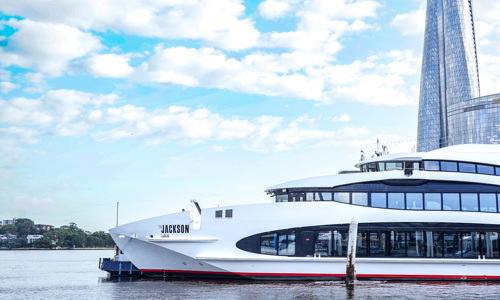 The Jackson
Host your guests on an unforgettable event when you book exclusive use of luxury super yacht, The Jackson. With capacity for 650 guests, The Jackson offers three expansive decks lined with floor to ceiling windows that showcase Sydney Harbour while you enjoy five star hospitality for your gala or cocktail event.
The sophisticated main deck offers capacity for 225 guests for dinner or 300 for a cocktail event as well as direct access to the front deck. Above, the rooftop bar has an opening roof to let in the sea breeze, sunlight or starlight as well as an outdoor deck, and offers capacity for 75 guests for cocktails. On the mid deck, guests can also take in the views of Sydney's natural harbour from two decks at the bow and stern of the vessel, while enjoying dinner for 75 guests or 150 guests for a cocktail event.
Dine on premium local produce from a menu tailored for your event, matched with a curated selection of beverages. Depart from Kings Street Wharf on Darling Harbour for an unparalleled event on spectacular Sydney Harbour.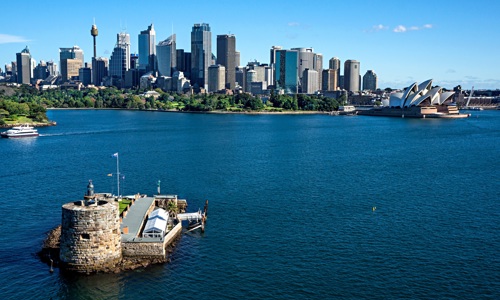 Fort Denison - Muddawahnyuh
Fort Denison is located on a small harbour island in the centre of Sydney Harbour just a stone's throw from the Botanic Gardens. A coveted location for events for its proximity to the city centre and 360° views of the harbour - an exclusive event here will impress your delegates and guests. Accessed by the water, guests will alight onto the newly developed jetty to experience a heritage site with modern facilities.
Sydney hospitality group, The Point are developing Fort Denison Dining, a world class venue comprising a dining room, bar and wine room, along with three exhibition rooms in the historic barracks building. The dining offering will be helmed by culinary director Joel Bickford, whose impressive resume includes four years as executive directive at Aria. Slated to open in early 2024, this unique harbour venue is one to watch for.
Surrounded by art, cultural and history
Art Gallery of New South Wales
This year the Art Gallery of New South Wales received global praise with the opening of the stunning, contemporary North Building, separated by a landscaped plaza from the original 19th century neo-classic gallery, now known as the South Building. This took the gallery's event space offering to 11 venues, six in the original building and five in the new North Building. Each building offers flexible event spaces suitable for conferences, gala dinners and cocktail events.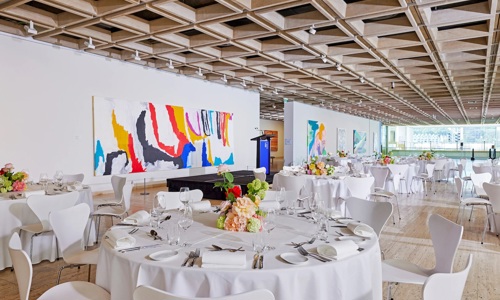 The South Building 
The entrance court of the original gallery with its modernist ceiling and ever changing art works offers space for 350 guests seated banquet-style, 216 on long tables for dinner or 250 for a cocktail event. Also on the ground floor, the newly refurbished 20th century galleries offer space adorned with the art of Brett Whitely to Francis Bacon (and more) for small to mid-sized cocktail functions or pre-dinner drinks for 150 to 350 guests. Following an extensive refurbishment, the tiered auditorium of Domain Theatre can seat up to 350 guests, while the Centenary Auditorium offers a more intimate seating for 90 guests.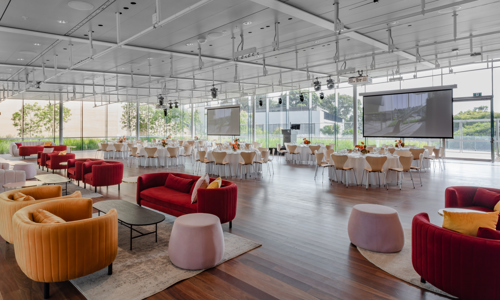 The North Building 
The double height Atrium, with courtyard access, has capacity for 1000 guests for cocktails or 280 for pre-dinner drinks before a dinner in the flexible glass-walled Meers Hall, offering capacity for 300 guests seated or 450 for cocktails. The Viewing Terrace also offers the perfect outdoor space to host up to 300 guests for cocktails before a dinner in the Meers Hall, outside of gallery hours. With views to Sydney Harbour and a signature curved roof, the light filled MOD Dining space offers capacity for 80 guests on long tables. Opening to the outdoor Harbour Terrace creates more flexible options, where 300 guests can enjoy a cocktail event, with covered seating for 100.  
Immersed by Australian and international art and sculpture the Art Gallery of New South Wales is Located between the green parklands of the Domain and the Royal Botanic Gardens, a short distance from the city centre and Sydney Harbour.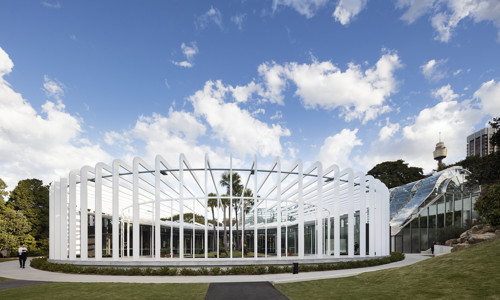 The Calyx
Located in Sydney's Royal Botanic Gardens is a unique venue with a stunning backdrop of more than 20,000 plants. On approach, you will be greeted by an elegant circular steel structure that stands out by day or by night when it is lit up with coloured lights. Inside, a retractable wall opens to reveal the stunning arc greenhouse exhibition space, adorned with the largest vertical garden in the Southern Hemisphere.
Currently the theme of the display is 'Love Your Nature' which will be in place until June 2024, at which time it will be replaced with another impressive horticultural exhibition. The Calyx offers a blend of outdoor and indoor space. Outdoor, a circular terrace complete with a moat and small island sets the scene for enjoying Sydney's balmy evenings from spring (October) to autumn (April). Inside, the foyer and functions space combine with the exhibition space for seated dining for up to 180 guests, or host a cocktail event for 400 guests. Overlooking the Botanic Gardens sweeping down to Sydney Harbour, the Calyx is a uniquely flexible space for events.
Taronga Zoo 
Just a short trip across Sydney Harbour is the beautiful setting for Sydney's Taronga Zoo. The panoramic views across Sydney Harbour back to the city set the scene for a fabulous outdoor event on the Concert Lawn, where up to 3,000 guests can meet and mingle, enjoy cocktails and canapés. Consider a marquee for 350 guests for a gala dinner.
Sunset views will add a natural backdrop for an unforgettable scene for your delegates and guests. Taronga Zoo has a range of lawn area for large events and also offers indoor venues such as the Gili Rooftop for dinners for up to 150 guests. Sydney's temperate climate makes outdoor events a possibility from spring (October) through to autumn (April).
Carriageworks
The largest multi-arts venue in Australia, Carriageworks offers an eclectic mix of 12 versatile event spaces. Located in the re-developed heritage site of Eveleigh Railway Workshops just three kilometres (two miles) south of the city centre, Carriageworks is a unique venue that can accommodate bespoke events such as large-scale conferences, cocktail parties and gala dinners for up to 1,500 guests.
Choose from contemporary, industrial style spaces with heritage elements offering event planners a blank canvas upon which to design an exclusive VIP event for your delegates. Think soaring apex ceilings, distressed brick walls, concrete floors, huge barn doors and archways. Host to annual events such as Australian Fashion Week, Sydney Festival and Vivid, Carriageworks offers a unique venue for an impressive event.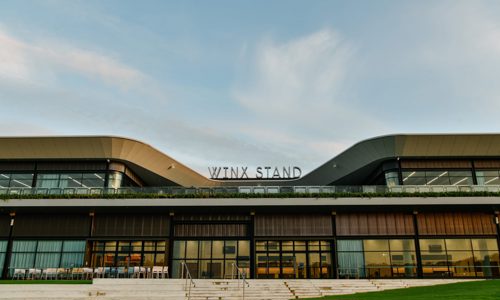 Winx Stand – Randwick Racecourse 
Just 10-minutes' drive from the city centre at Randwick Racecourse, the WINX Stand is Sydney's newest large-scale venue. The WINX offers flexible function spaces for conferences and events over two levels, opening to an outdoor space on and an open-air rooftop. The ground floor offers up to two individual spaces with a capacity for 3,000 standing for a cocktail event or 1850 seated for dinner. On Level 1, an open-air terrace sits between two function spaces each with a capacity of 500 standing or 400 seated for dinner.
Book exclusive use of the entire venue for 4,000 guests standing. For larger events, there is an option to connect to the adjacent Queen Elizabeth ll stand for a full venue takeover. With state-of-the-art technology and connectivity to 80 screens, this  venue is perfect for a spectacular gala event. WINX stand has made its mark on the events industry, rewarded recently when it was shortlisted as a National Nominee for 'Venue of the Year' at the prestigious Australian Event Awards.
Sydney Showground
Located in the geographic heart of Sydney's metropolis, at the site that hosted the 2000 Sydney Olympics, is the Sydney Showground. When size matters, it's not surprising the Sydney Showground was the winner of the Event Venue – Capacity more than 1,000 category at the recent Meetings & Events Australia awards. Consider the Dome for a gala event. This unique timber structure is the largest of its type in the Southern Hemisphere.
Think capacity for 4,000 guests seated for dinner or 6,000 for a cocktail event, or up to 7,000 delegates can be hosted theatre style for presentations. Adjacent, Exhibition Halls 2,3,4 offer a combined capacity of 7,400 guests seated for dinner or standing for cocktails. These can be added to the Dome to create a venue for a gala dinner for 11,000 guests. Likewise, each can be divided for individual use for 2,200 -2,600 guests for dinner or cocktail events.
Also on site, Exhibition Halls 5 and 6 offer a combined capacity of 6,390 seated for dinner or a cocktail event for 10,740 guests. These can also be combined with the Dome and Exhibition Halls 2,3 and 4 for a total space of 30,000 sqm (322,917 sq.ft.). Each venue offers air-conditioned comfort, a pillarless space with immense ceiling heights of 4-8 metres complete with rigging, foyer areas and a blank canvas on which to bring your dream event to life.